Celebrating 2021 PE Day
August 04, 2021
On this PE Day in 2021, we took a moment to interview Elliot Blonshine, S&ME Associate Project Manager, one of our employee-owners who recently passed the Professional Engineers exam working in our Raleigh, NC office.  Read more about what Elliot says about being an engineer and some advice for others entering the industry.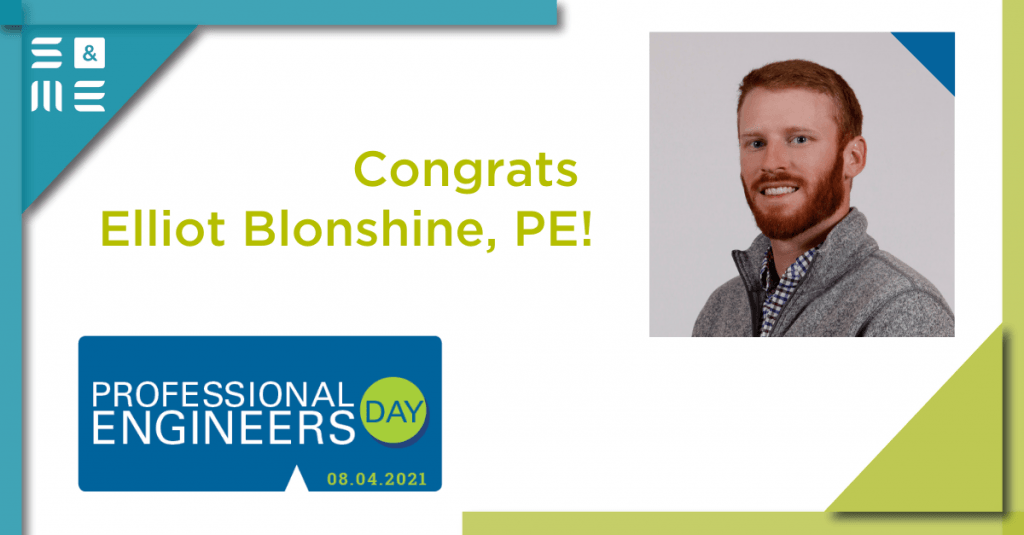 What will your PE license mean to you?
It means I'm part of a group of the next generation of people that will help build up the places around me. When I drive past projects that I've helped work on, I like to tell my wife, "I drilled that site or section of highway." But now I'll get to say, "I was the geotechnical engineer of record for that project."
Why did you choose to take the PE exam?

The PE exam is a stepping stone in my career. I can't move forward along this career path without passing it. It's important to show that I can retain the knowledge required to help build things, but anyone can take it and pass. I'll use the rest of my career to prove I'm a good engineer.
Can you share some advice you have for EITs that no one told you?
Don't be afraid to fail. The hardest part in taking the exam is getting all your notes together and running through the material and practice problems. Exam day was a breeze compared to that. If you fail, a lot of the hard work on your part has already been done; you just need to refresh on a few things for the next attempt.
Take the PE exam before you get too far in your career and life. I would recommend after year 2 or 3 in your career. It is much easier to study for an exam when you don't have additional responsibilities at work or a child at home. I do think getting at least one year of experience will serve you well on the exam.
What do you enjoy most about the engineering field?
Purpose. I find fulfillment in the work I do, and that's important to keep me engaged while at work. I like what I do, but there are definitely hard days. That's life. Because what I do is important, I continue to do it, and most days find enjoyment and purpose in it.
Thank you, Elliot, for your contributions each and every day to our local community, the engineering industry, and your S&ME co-workers.  And congratulations on earning your professional engineering license in 2021.