Celebrating One Year of S&ME's Thrive Together Strategic Plan
July 09, 2020
Thrive Together S&ME 2020 Strategic Plan
One year ago, today, we launched our "Thrive Together" S&ME 2023 Strategic Plan to chart our goals for the next five years and serve as our road map to guide us to success.
Hear Matt Ryan describe more details of the strategic planning process in this video:
Our Strategic Planning Team met weekly for six months and identified five focus areas for the future of our company; People, Culture, Clients + Partnerships, Growth, and Financials. The team also developed Strategic Objectives and 30 SMART Goals (Specific, Measurable, Achievable, Relevant, and Time-bound) that will help us drive each of our Strategic Objectives.
Additionally, the team re-wrote our Purpose, Vision, Mission, and Core Values statements, the foundation of the planning process, and completed client and employee touch plans to gauge our current internal and external growth initiatives, client experience, and culture.
Thrive Together Roadshows
Our Strategic Planning Team hit the road to visit our offices to rollout the Strategic Plan. The plan was met with enthusiasm and engaging discussions. In total, the roadshow efforts covered 35 presentations to 30 offices in front of 600+ employee-owners in just 10 days. Our team of presenters enjoyed connecting and sharing the exciting things to come.
Check out a few photos from the roadshows: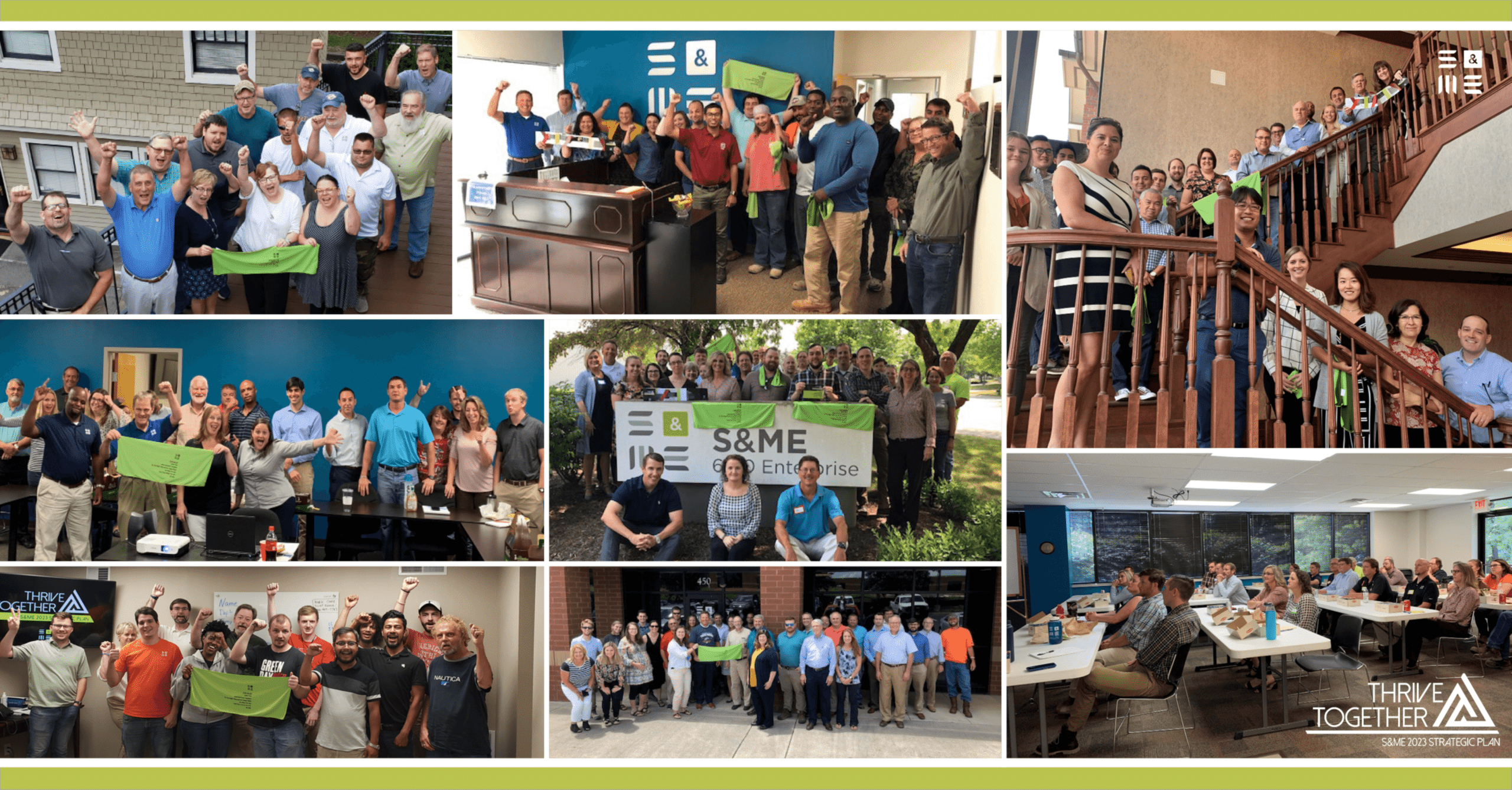 What Have We Accomplished in One Year?
We have much to be proud of since the rollout of our Strategic Plan. Since 2019 we:
continue to successfully implement our Thrive Together strategic plan through SMART goals and action plans;
continue to celebrate our wins and successes across all offices;
developed a new Office Principal role to foster organizational communication, collaboration, and culture within each office;
launched an Employee Engagement Survey that collected an 82% response rate;
learn and grow from the results of our Employee Engagement Survey with a dedicated team to analyze, prioritize next steps, and improve upon benchmarks;
implemented an internal S&ME Learns platform for online learning and professional development;
successfully created a new Client Development Leader role dedicated to sales growth and client development;
created localized Win Plans to enhance client development;
launched a new client development training series, "The Sales Zone;"
continue to explore strategic growth opportunities to expand our footprint;
continue to set a committed, sustainable path forward regarding our ownership structure; and
continue to collaborate with 7 Business Units intentionally and successfully.
What is Next?
With newly defined Purpose, Vision, and Mission foundational direction, we are eager about the future progress and direction of S&ME under our "Thrive Together" Strategic Plan with guidance from our committed leadership team. The glue connecting us all are the six S&ME Core Values, our deeply held beliefs that drive our daily behavior: Listen First, Work and Grow Together, Do the Right Things and Do Things Right, Do What You Say, Lead From Where You Are, and Be Safe.
The goal is for everyone at S&ME to be able to find our place within this plan and help us drive our company forward. As employee-owners, we are eager and excited for S&ME's progress and growth as we thrive together.