Chitty Water Tank Coating Rehabilitation Wins ACEC-NC Engineering Excellence Award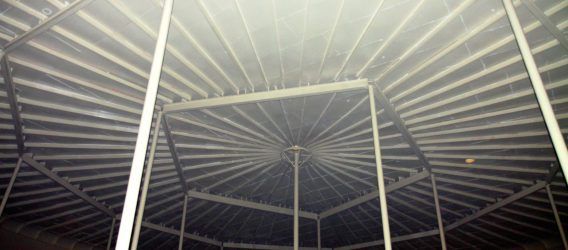 November 15, 2014
Over a decade ago, Winston-Salem City County Utilities (CCU) had their 10 million gallon steel water tank, known as the "Chitty tank" painted. Although they were told the coating system would last for 12 to 15 years, the coatings on the interior and exterior of the water tank failed after just 5 years. The CCU did not want this mistake to happen again.
Coating rehabilitation for a very large ground storage water tank, such as Chitty tank, is no small task. The CCU had some major concerns, such as how long the water tank would be out of service, the amount of waste which would be generated during removal of the existing coating materials requiring landfill disposal, and very important to the CCU was whether the new coating system would contain volatile organic compounds (VOCs), particularly for the inside of the water tank.
Engineering firm S&ME, Inc., which has helped numerous towns and municipalities fix their water tank coatings problems, was familiar with this type of water tank coating problem and understood CCU's concerns. S&ME, Inc. was retained by CCU to assess the current condition of the tank and provide engineering recommendations for the tank coating rehabilitation.
S&ME recommended removing the existing coating system using a blast track machine and a recycled blast media. This process produces less waste and is more environmentally friendly than other removal methods, which was important considering the close proximity of the tank to residential and commercial properties.
A highly flexible coating manufactured by the Sherwin Williams Company and referred to as a one coat system was recommended by S&ME and selected by CCU. The one coat system is more cost effective than the more commonly used three coat systems, which require a primer, intermediate, and top coat. The one coat system resulted in a shorter coating application time and therefore shortened the 'out of service' timeframe for the water tank. The selected one coat system has properties that provide a 30-year service life and contain 100 percent solids technology. Therefore, volatile organic compounds were not released in the water tank interior.
This story which begins with a coating failure over a decade ago has a happy ending. CCU representative Marcus Kiser stated "S&ME's front end services considering cost, environmental impacts, and the project schedule were contributing factors that made this project a success for CCU."